Two Cal Poly Chemistry Alumni Awarded NSF Research Fellowships
June, 2011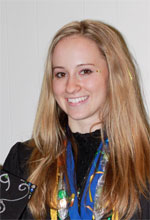 SAN LUIS OBISPO -- Two Cal Poly chemistry alumni have been awarded National Science Foundation Graduate Research Fellowships of $90,000 each.
Chemistry grads Crystal Valdez and Joseph Carlson are pursuing advanced degrees at UCLA and UC Irvine, respectively. Each will receive $30,000 a year for the next three years from the NSF.
The competitive fellowship was awarded nationally to 2,000 students this year -- three of them Cal Poly alumni. Cal Poly mechanical engineering graduate student Kevin Yamauchi was also selected to receive a 2011 NSF fellowship.
The fellowship supports graduate students who have demonstrated potential for significant achievements in science and engineering research.
Valdez graduated from Cal Poly in 2009 with a degree in biochemistry. She is pursuing a doctorate in physical chemistry at UCLA. Her research group's theoretical and computational chemistry lab focuses on the understanding, multi-scale description, and design of proteins, enzymes, DNA, catalytic surfaces and clusters. Valdez is working on designing artificial enzymes that catalyze chemical reactions. "Using enzymes as catalysts can be cheaper, 'greener,' and more efficient," Valdez explained – and they have the potential to save millions of dollars when used in manufacturing processes.
Valdez, from Littlerock in Southern California's Antelope Valley, hopes to become a university professor once she earns her doctorate.  Her own professors were great examples, she said. "The laboratory and research skills and close relationships I formed with my professors have been the two most valuable things I took away from Cal Poly."
Carlson, of Morgan Hill, Calif., graduated from Cal Poly with a degree in chemistry in 2010. He's currently pursuing a doctorate in organic chemistry at UC Irvine. His research group focuses on synthesis of tough natural products that have medicinal, biological and structural properties. He's thinking of going into industry after earning a doctorate, thanks to a Cal Poly internship at Gilead Sciences. "I worked with top scientists on a complex target for the treatment of hepatitis C," he said.
Carlson's Cal Poly degree has already given him an advantage in grad school. "Now that I'm at a UC, I really appreciate the undergraduate education I received at Cal Poly. Taking lab classes taught by professors (as opposed to TA's) was a big part of it, and the labs were much more hands on," he said. "The upper-division electives such as advanced organic spectroscopy with Professor Jen Carroll and organic synthesis with Professor Eric Kantorowski, and others were taught at a graduate level, so at grad school, sometimes my classes have been review."
Both of the NSF fellows say Learn by Doing cemented their enthusiasm for science in addition to giving them an edge in grad school.
"My biggest Learn by Doing experience at Cal Poly was a field research trip with Professor Corinne Lehr," said Valdez. "She took a team of four undergraduate students on a road trip across California, Nevada and Oregon, collecting brine shrimp, algae and water samples from hyper-saline lakes. The trip was a weeklong camping and data collection excursion that showed the commitment and hard work needed to do science."
Carlson credits chemistry Professor Phil Costanzo for much of his success. "He was an excellent advisor and mentor. He can go out of his way at times to really help advance students. Phil and I published a research paper, which is uncommon for most undergraduate students – but not uncommon at Cal Poly."
Being allowed to work on a high-resolution nuclear magnetic resonance spectroscope in Cal Poly's Chemistry Department was another peak hands-on experience. "Cal Poly was one of the first universities that I've heard of to give undergrad o-chem (organic chemistry) students training on an NMR – it's quite an expensive piece of equipment," Carlson said.
For more details on Cal Poly's Chemistry Department, visit its web site.
For more details on the NSF Graduate Research Fellowship program.
Related Content