Biological Sciences Alum Killed While Protecting Condors
Dec. 6, 2011

Michael Tyner - Courtesy his Facebook Profile
BIG SUR – Cal Poly alumnus and wildlife biologist Michael Tyner was killed by a falling branch in Big Sur Nov. 30 after caring for one of the California condors he was dedicated to saving.
"He was just a terrific biologist, very much at one with nature and the wilderness. His work with the condors for the last six years was really what he wanted to do. He cared so much about those birds," Mike Stake, a senior wildlife biologist with the Ventana Wildlife Society, told the Santa Cruz Sentinel. Tyner worked for the society as a field supervisor for its California Condor Recovery Program.
"This loss is catastrophic, heartbreaking and painful," Executive Director Kelly Sorenson wrote in a post on the society's website.
Tyner went into the Los Padres National Forest on Nov. 30 with colleagues to check on a young condor in the process of being gradually released to the wild. Then the winds picked up. Meteorology reports said gusts of up to 70 mph were recorded in the area that afternoon. The Monterey County Coroner's Office reported that Tyner died at the scene due to blunt force trauma to the head after an oak branch fell on the ATV he was driving back to a base camp.

Tyner, 35, graduated from Cal Poly in 2004 with a B.S. in Ecology & Systematic Biology with a concentration in wildlife biology. Originally from Paso Robles, he was living and working in Big Sur.
While at Cal Poly, Tyner worked at the Hi Mountain Condor Lookout station with other students. "Mike Tyner was an integral member of our cohort. We all went though an amazing period of discovery and hard work together while at Cal Poly. He was an outstanding biologist, a dear friend and many many people are mourning his loss," said Lisa Andreano, a biologist with the State Parks Department.
Come back to this page for details about memorial services as they become available.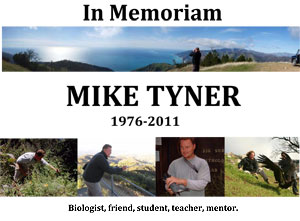 Post and read comments and see photos about Michael Tyner on the Hi Mountain Lookout website tribute: http://www.condorlookout.org/
Read the obituary and sign the family's guest book in the SLO Tribune
Read the Memorial on the Ventana Wildlife Society Web site: http://www.ventanaws.org/
Related Content