Alumni in the News
2016
Cal Poly Alumna Launches Bilingual Program, Named Teacher of the Year
Colleen Espinoza (B.S., Liberal Studies, 2008), a kindergarten teacher at a Sunnyvale, Calif. elementary school, helped introduce a dual immersion spanish program and was named the district's Teacher of the Year.
Read more about Colleen Espinoza
Cal Poly Grad Appointed Nevada Superintendent of Public Schools
Steven Canavero (B.S., Ecology and Systematic Biology, 1996) has been appointed by NevadaGovernor Brian Sandoval to serve as the state's superintendent of public instruction.
Read more about Steven Canavero
2015
Alumna Named Santa Barbara County Air Pollution Control Director 
Aeron Arlin Genet (B.S., Biological Sciences, 1991) has been named the new district director and air pollution control officer of the Santa Barbara County Air Pollution Control District. 
Read more about Aeron Arlin Genet
Alumna Part of Record-Setting USC Dentistry Class 
Heather Stephens (B.S., Biological Sciences, 2005) is one of several students to join a historic all-female class at the Herman Ostrow School of Dentistry at the University of Southern California.
Paso Robles Teacher Nominated for National Teacher Award 
Jon-Paul Ewing (B.S., Biological Sciences, 2004) has been nominated for the 2015 Presidential Awards for excellence in mathematics and science teaching. Ewing currently teaches physics and anatomy at Paso Robles High School.   
Read more about Jon-Paul Ewing's nomination
Cal Poly Grad, 'The Voice' Contestant Elm Performs at Vacaville Fundraiser 
Cal Poly graduate and NBC's "The Voice" participant Lyndsey Elm (B.S., Kinesiology, 2014) on Oct. 11 performed at a benefit conference for fire victims in her hometown of Vacaville, Calif., according to the newspaper the Vallejo Times-Herald.  
Read more about Lyndsey Elm's performance 
Biological Sciences Alumnus Named Univ. of Delaware Professor
Matthew Oliver (B.S., Biological Sciences, 1999; M.S. Biological Sciences, 2001) was named professor of Marine Science and Policy at the University of Delaware, according to an announcement made by the university. 
Read more about Matthew Oliver
Alumna Named New Elementary School Principal
Shannon Garcia (B.S. Math, 1997) was unanimously selected by the Culver City Unified School District Board of Education on Aug. 3 to serve as the new principal of El Rincon Elementary School in Culver City, Calif. 
Read more about Shannon Garcia's selection as principal
Kinesiology Alumnus Volunteering across the U.S.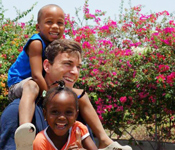 After graduating from Cal Poly and before plunging into a medical school program, Cooper Ehlers (B.S., Kinesiology, 2015) decided he wanted to give back to the community — in all 48 contiguous states. Ehlers plans to volunteer with local nonprofits in every state except Hawaii and Alaska.
COSAM Alumnus Shares Story of Success with NASA
Cal Poly alumnus Neal Grantham, (B.S., Mathematics and Statistics, 2012), was recently featured in an article published on NASA's website. Grantham, who is currently pursuing a doctorate in statistics at North Carolina State University, is spending the summer as an intern at NASA Langley's Crew State Monitoring group. He's working with big data to analyze the mental states of aerospace pilots in various situations.
Read more about Neal Grantham and NASA
---
Related Content