News and Events
2021
Jafra Thomas, a professor in the Kinesiology and Public Health Department, received the 2021 Hally Beth Poindexter Young Scholar Award from the National Association for Kinesiology in Higher Education (NAKHE). The award recognizes the contributions of an early-career faculty member whose scholarship focuses on interdisciplinary issues facing kinesiology, physical education or general higher education.  
Learn more about Thomas's achievement here.
 
Picture a Scientist Free Film Screening and Panel Discussion March 1-7
Picture a Scientist chronicles the groundswell of researchers who are overcoming harassment and discrimination to write a new chapter for women scientists. A free screening will be available for the Cal Poly and local high school communities March 1-7. A panel discussion with the film director and two Cal Poly alumnae scientists will be held March 4, 4-5 p.m. 
Register for the screening and learn more about the panel discussion.
 
Research Project to Explore Impact of Offshore Wind Power Development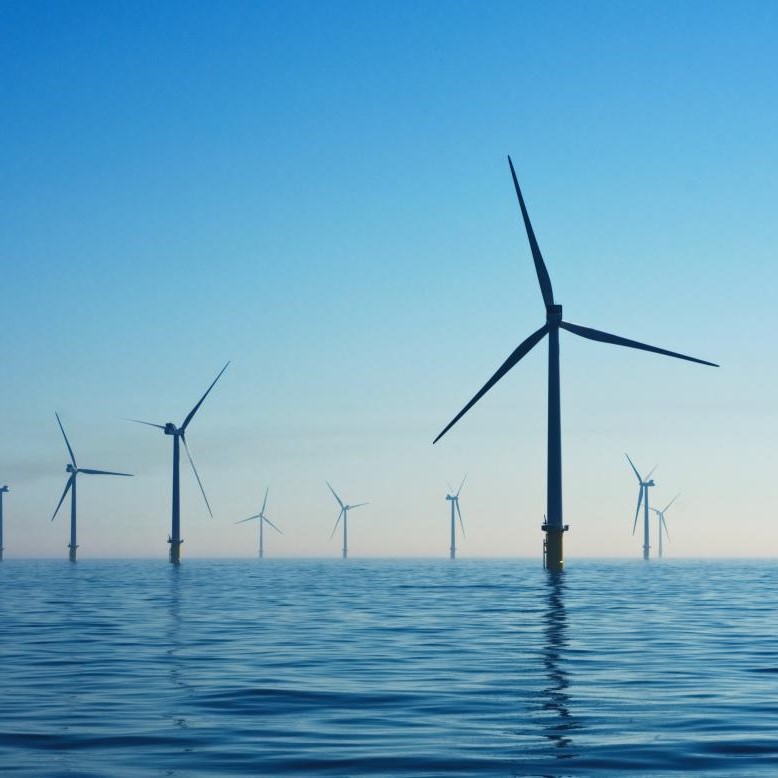 A team of Cal Poly researchers is launching an effort to coordinate and develop practical local solutions to the unique environmental challenges facing the Central Coast due to the climate crisis.
Learn more about how Cal Poly researchers are finding solutions to the climate crisis using wind.
2020
Biology Students Featured at ACS Conference
Two Cal Poly students were featured as researchers at the 2020 National American Chemical Society (ACS) meeting. For biology majors Mary Ronquillo and Cole Detels, the opportunity to present at the premier chemical research conference in the U.S. was unmatched. 
Read more about the conference presentation.
Size of Parrotfish Predation Scars Affects Coral Healing Rate
Understanding the capacity of corals to heal from parrotfish predation will help scientists and managers better understand whether corals are likely to recover. A Cal Poly research team monitored the healing of the Great Boulder Star Coral, Orbicella annularis, from parrotfish predation scars and found that the size of scar made a difference in coral recovery.
Read more about the effects of parrotfish on coral.
Cal Poly Student Finds Noise and Light Can 'Profoundly' Alter Bird Reproduction
A new Cal Poly study published in the journal Nature provides the most comprehensive picture yet of how human noise and light pollution affect birds throughout North America, including how these factors may interact with or mask the impacts of climate change.
Learn more about how human noise and light pollution affect birds throughout North America here. 
Cal Poly School of Education Awarded $2.1 Million Grant to Prepare, Support Local Educators in Special Education, Bilingual Education
A Cal Poly team of faculty and staff members in the School of Education has been awarded a $2.1 million Teacher Quality Partnership (TQP) grant from the U.S. Department of Education for Cal Poly's Teaching for Inclusivity and Equity Residency (TIER) project. The TIER project will create a residency program in the School of Education that will recruit and train 44 new teachers in the areas of special education and bilingual education and place these teachers in local school districts.
Learn more about this award supporting local educators here. 
Cal Poly Study Finds Warmer Waters Threaten Red Abalone Recovery
While red abalone were once abundant throughout California, they have long been in decline due to overfishing and environmental changes. This shortage has resulted in the closure of the red abalone fisheries, and a growing effort to protect and re-establish abalone populations. A new Cal Poly study identified conditions that support the production of new young abalone, but also found that prolonged heat stress can reduce production.
Read more about how warm water affects red abalone.
 
Cal Poly and California Sea Grant Appoint Aquaculture Specialist
Cal Poly and California Sea Grant are pleased to welcome Dr. Kevin Marquez Johnson. Johnson will serve as an Aquaculture Specialist with the California Sea Grant extension program, based in San Luis Obispo on the Cal Poly campus.
Read more about Johnson and his work here. 
Cal Poly Professor and International Team Discover New Genus of Lichen
An international team of scientists has discovered a new to science genus of lichen in South Africa. It's the first lichen genus discovered in the country in 30 years.  Burrowsia cataractae was found during a National Geographic Society expedition led by Cal Poly biology Professor Nishi Rajakaruna in Mpumalanga, a province in eastern South Africa. 
Read more about the new genus of lichen.
Loss of Eelgrass in Morro Bay May Cause Widespread Erosion
The large-scale loss of eelgrass in Morro Bay may be causing widespread erosion. Over the last century, Morro Bay has been building up sediment quickly. After the die-off, however, erosion took place in more than 90% of the places where eelgrass previously grew. Tracking changes in sediment in places like Morro Bay will become increasingly important as climate change is expected to drive sea level increases and shoreline change. 
Read more about eelgrass loss and erosion.
Cal Poly Aims to Find Best Ways to Get Away from the Screen and Get Moving
A new Cal Poly study will investigate how to reduce the time spent in front of video screens. Aside from work and sleep, Americans spend more time in front of our screens than doing anything else, which increases the risk of chronic disease. Finding the best ways to get people away from their screens and get them moving is the goal of the new study led by Sarah Keadle, a professor in Cal Poly's Kinesiology and Public Health Department.
Read more about the sedentary screen time study.
Searching for the Key: Student, Professor Study Possible COVID-19 Treatments
Chemistry and Biochemistry professor Scott Eagon and student McCane Howland attack the pathogen from a different angle, sorting for molecules that could possibly be used in an oral treatment for COVID-19.
Read more about treatment compounds being tested.
Ice Cream and Lava Lamps: Student-Led Learn by Doing Lab Gets Kids Excited About Science
With a shift to virtual instruction, the Learn by Doing Lab delivered provides kids experiments that they can do safely from their kitchens. The Lab gives Cal Poly students the opportunity to try teaching and inspire the kids.
Read more about the virtual Learn by Doing Lab.
'What Am I Going To Do To Stay Active?' Kinesiology Instructor Encourages Fitness At Home
Andrew Silva, a Kinesiology and Public Health instructor, has redesigned his classes to keep students engaged and active during these challenging times. Silvia offers creative and accessible activities that motivate the students and even their loved ones to take care of their wellbeing.
Read more about Cal Poly students staying active at home.
Botany Students Study Effects of Climate Change — Using 100-Year-Old Plants
Botany students had the chance to dive into more than a century of California's plant data this spring in an exploration of the nuances of plant life using computer programing and statistical analysis. By melding climate and plant specimen data, students began to look at the landscape a little differently.
Read more about the study of botanical phenology.
Endangered Local Lizard May be Threatened by Climate Change, According to Cal Poly Study
The blunt-nosed leopard lizard has lost most of its habitat and now cling to existence in an increasingly harsh environment. The study highlights multiple ways to protect the lizard including conservation of other sensitive plant and animal species, such as the endangered kangaroo rats that make the burrows used by the lizards.
Read more about the effects of climate change on local species.
Cal Poly Names Josiah Lashley Outstanding Student Employee of the Year
Josiah Lashley, a Hemet High school graduate, is recognized as Cal Poly's 2019-2020 Outstanding Student Employee of the Year. Lashley's name, along with every Cal Poly Outstanding Student Employee of the Year since 1994, will be etched on a perpetual plaque that hangs in the University Union. 
Read more about Lashley's work to help stop human trafficking crimes.
Cal Poly Contributes to Study on Ways to Increase Sea Otter Population
Sea otters have made a comeback in two estuaries, Morro Bay and Elkhorn Slough. This recovery led researchers to wonder how including estuaries in conservation plans could affect the marine mammals. A new study concludes that California could more than triple its population of 3,000 southern sea otters to nearly 10,000, by repopulating the San Francisco Bay — the largest estuary on the coast.
Read more about the repopulation of otters.
2019
Cal Poly Leads Project to Increase Diversity of Faculty in the CSU System
A more diverse faculty improves the education of all students, according to multiple studies, yet faculty of color face greater challenges than their white colleagues. With a $2.7 million grant from the National Science Foundation, Cal Poly education professor Daniel Almeida aims to increase the retention of faculty of color across the California State University (CSU) system. 
Read more about increasing retention.
Biological Sciences Professor Receives Prestigious Honorary Appointment
Biological Sciences Professor Nishanta Rajakaruna will travel to North-West University (NWU) in South Africa this spring as part of a prestigious honorary appointment by the university's School of Biological Sciences. 
Read more about Rajakaruna's honrary appointment.
Biological Science Professor Earns 2019 Ocean Stewardship Award
The Central Coast Aquarium (CCA) recognized Biological Science professor Nikki Adams with the 2019 Ocean Stewardship Award. The annual award recognizes an individual who has made a positive and lasting impact on marine science in San Luis Obispo County in the areas of research, conservation, volunteerism or philanthropy.
Read more about Adam's achievement.
Breaking Ground on the Future of Undergraduate Research
On May 3, Cal Poly broke ground on what will be one of the centerpiece facilities on campus: the William and Linda Frost Center for Research and Innovation. In this four-story, 102,000-square-foot complex, students and faculty will work side-by-side to discover answers to real-world questions. 
Read more about the new building.
College Honors Graduating Students
This year's graduating seniors and master's students boast a wide range of accomplishments. Some maintained perfect 4.0 GPAs while others raised money for the local homeless shelter. 
Read more about student achievements.
Digitizing the State's Botanical History
Cal Poly's Robert F. Hoover Herbarium contains information crucial to assessing the impact of climate change on California's plants, and it's all going digital. 
Read more about the digitization effort.
American Astronomical Society Honors Physics Student for Research Presentation
Physics major Priscilla Holguin West translated her passion for astronomy into a Chambliss Astronomy Achievement Student Award at the national American Astronomical Society meeting this year. The awards recognize exemplary research by undergraduate and graduate students who present a poster at the meeting.
Read more about the recognition of Priscilla Holguin West.
Cal Poly Hyperloop Club to Compete in SpaceX Competition
A team of around 80 engineering and physics students is the only first-year team ever to make it through the preliminary design round in SpaceX's annual Hyperloop Pod Competition. Cal Poly's team is one of 22 finalists selected from more than 700 entries worldwide, a remarkable accomplishment for a group that formed less than a year ago.
Read more about the SpaceX competition.
Cal Poly Leads Effort to Digitize State's Botanical History
The herbarium contains information crucial to assessing the impact of climate change on California's plants, as do similar collections around the state. To move the data out of herbarium cabinets and make it accessible to researchers and citizen scientists alike, biology Professor Jenn Yost is leading a statewide effort to digitize images and life-cycle history of the Golden State's flowers.
Read more about digitizing California's Botanical History
Associate Dean Camille O'Bryant Receives Cal Poly Cross Cultural Centers' First Martin Luther King Legacy Award
An associate dean in Cal Poly's College of Science and Mathematics, recognized as a staunch advocate of inclusion and equity efforts for underrepresented students, is the inaugural recipient of the campus MLK Legacy Award.
Read more about O'Bryant's efforts
Cal Poly Study Explores Effects of Neighborhood Type on Immigrant Health
Professor Marilyn Tseng and Cal Poly students will investigate the relationship between the health of immigrants and their new environment in Philadelphia. Tseng chose to dive deeper into how group isolation affects physical health.
Read more about immigrant health in varying neighborhoods
2018
Cal Poly Research Measures Effects of Wildfires on Air Quality
Chemistry professor Matt Zoerb, set up two air stations in San Luis Obispo that each picked up evidence of materials that burned in fires hundreds of miles away.
Read more about the effects of wildfires on air quality
Cal Poly Partners with SLO NOOR Foundation to Provide Mobile Health Clinic in Northern Santa Barbara County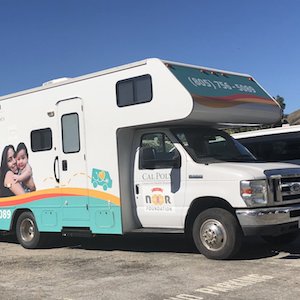 Mobile health unit will provide free women's health and newborn care to uninsured families in Santa Maria and Guadalupe.
Read more about the Mobile Health Unit
Physics Professor Receives Grant to Improve Particle Collider
Physics Professor Themis Mastoridis and his student research team will play a key role in the coming upgrade of the world's largest particle collider, the Large Hadron Collider (LHC).
Read more about Mastoridis and his research team
New Study Aims to Give Babies Healthiest Possible Start
Cal Poly professor Alison Ventura and her students are working to decode the unspoken mysteries between a mother and her baby.
Read more on the effects maternal interactions have on babies
Faculty and Staff are Distinguished and Outstanding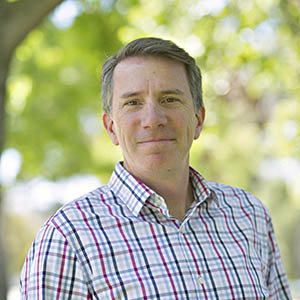 Faculty and staff in the College of Science and Mathematics are acknowledged for the great work in their respective fields and for the impact they have had on their student's lives.
Read more about the achievements of Cal Poly faculty and staff
Cal Poly Receives Almost $1M to Support STEM Educators
The 2017-18 awards fund campus projects that will lead to a more robust and diverse talent pipeline of K-12 science and math teachers — with a focus on recruiting candidates from underrepresented communities.
Read more about funding supporting educational opportunities
Preparing Tomorrow's Teachers to Inspire the Next Generation Today
Physics and liberal studies Professor David Mitchell led a team of aspiring educators on a journey to develop a curriculum designed to inspire young students to be curious about our galaxy.
Read more about developing classroom activities
From Eelgrass to Mudflat: New Cal Poly Research Dives into Morro Bay Mystery
Morro Bay's eelgrass beds nearly disappeared from 2007 to 2017. This new Cal Poly study helps explain why levels remain low.
Read more about the research into Morro Bay's eelgrass beds
Cal Poly Biology Student to Receive CSU Trustees' Award and $6,000 Scholarship
A Cal Poly biology junior, David Denisov, who plans to pursue a career in emergency medicine has received a 2018 California State University Trustees' Award for Outstanding Achievement.
Read more about biology student's award
Cal Poly Celebrates Neutrino Discovery
For the first time, scientists have located the source of a high-energy neutrino from another galaxy. Cal Poly professors Jodi Christiansen and Stephanie Wissel explain the significance of this discovery.
Read more about how this discovery gives scientists a new way to learn about the universe
Physics professor Colleen Marlow receives the prestigious Marsden Award from the Royal Society of New Zealand
Marlow's technique is based on measuring the complex electrical sensitivity of carbon nanotube networks. A carbon nanotube is a tube-shaped carbon crystal structure with a diameter about 10,000 times smaller than a human hair and unique electrical properties.
Read about how this work may represent an advancement in biosensors commonly used for routine medical diagnostics
Cal Poly Receives U.S. Department of Justice Campus Program Grant for Gender-Based Violence Prevention
Cal Poly is one of 53 universities nationwide to receive the Campus Program grant through the federal justice department's Office on Violence Against Women.
Read about how these funds will be used to enhance gender-based violence prevention and response efforts on campus
Physics Professor Wins Prestigious National Science Foundation CAREER Award
Physics Professor Stephanie Wissel received the National Science Foundation's most prestigious award for new faculty, the Faculty Early Career Development Program, or CAREER, Award. Only five other Cal Poly faculty members have ever received a CAREER Award, and only 450 are given each year.
Read more about how this award supports Wissel's research with a grant of nearly $670,000 over five years
Jupyter Collaboration Led by Cal Poly and UC Berkeley Receives Top Software Award
Project Jupyter may be the best-kept secret on the Cal Poly campus, but it's well-known at companies such as Microsoft, Google, and IBM. These tech giants have created entire commercial data science and AI platforms based on the open-source software project.
Read more about Project Jupyter
Biology Professor and Author Publishes Guide to Iconic California Plants 
 Biology professor and author Matt Ritter is on a mission to "get people stoked on plants."
Learn more about Ritter's new book, "California Plants: A Guide to Our Iconic Flora"
Biology Professor Helps Develop Model for Sustainable Ocean Use
A team of universities that includes Cal Poly has developed a new analytical model that could lead to more environmentally sustainable ocean usage and management. 
Read more about this sustainable model
Interdisciplinary Teams Bring Power of the Sun in a Suitcase  
An interdisciplinary team of Cal Poly students brought the power of the sun in a suitcase to a local elementary and high school. The school children learned about the impact of solar energy by building a small solar-powered system - and then figuring out how to improve it.
Read more about this interdisciplinary team
Cal Poly Kinesiology and Public Health Professor Wins CSU Award for Outstanding Scholarship
Cal Poly kinesiology and public health Professor Suzanne Phelan has received the $20,000 Wang Family Excellence Award for outstanding commitment to student achievement and scientific contributions. Phelan was one of five California State University faculty and staff members to receive the award.
Read more about the professor who won a CSU Award
Cal Poly Research Finds Strong Support for Ocean Protection Worldwide
People around the world strongly support ocean conservation measures, according to a new study of public perceptions of marine threats and protection. The study, which was published in the journal Ocean and Coastal Management, provides a rare comparison of how the public views marine threats by human activity and protection efforts around the globe.
Read more about this support for Ocean Protection
Collaborative Cal Poly Study Finds Noise from Oil and Gas Operations Stresses Birds and Hinders Their Reproduction
Birds exposed to the persistent noise of natural gas compressors show symptoms remarkably similar to those in humans suffering from post-traumatic stress disorder, according to new research from Cal Poly and two partner schools.
Read more about this collaborative study
---
Related Content