COSAM Ambassadors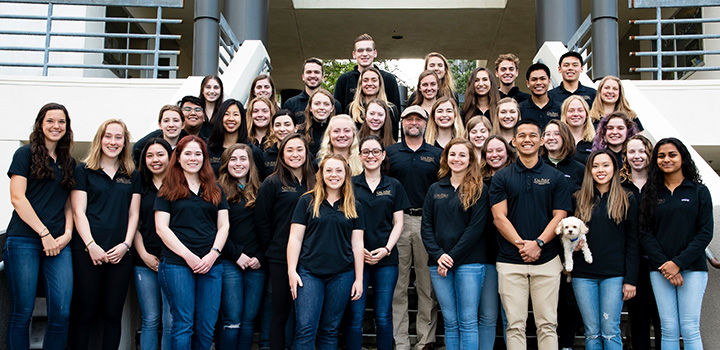 College of Science & Mathematics Ambassadors are motivated students dedicated to promoting the College of Science & Mathematics and encouraging strong relationships between faculty, staff and students within the college.
COSAM Ambassadors are the links between the college, its faculty and students, alumni, parents, industry and the local community. Ambassadors volunteer for the organization because they enjoy sharing the amazing Learn by Doing opportunities that take place in the college with current and prospective students, alumni, parents, college supporters and community members by giving tours and participating in both college and university-wide events.
Ambassadors are passionate about sharing their knowledge of COSAM and personal experiences as COSAM students with prospective students and families. If you would like to schedule a College of Science & Mathematics Tour led by COSAM Ambassadors, please visit https://admissions.calpoly.edu/visit.
Students chosen to become Ambassadors enjoy opportunities to enhance their leadership skills while gaining invaluable knowledge about Cal Poly. They also develop close working relationships with the COSAM dean, department chairs, faculty and staff.
To stay up to date on the Ambassadors' activities, visit their Facebook page.
Interested in joining us?
COSAM Ambassadors will accept applications for new Ambassadors beginning Fall quarter 2019. Students of all years are encouraged to apply.* If you are interested, we encourage you to attend a Fall 2019 information session where we will share about our organization and answer any questions you may have about the application process. Questions in the meantime? You may contact us at cosam.cp@gmail.com. Looking forward to meeting you!
*Preferred commitment of at least one year before graduation.
Fall 2019 Tour Dates
Mondays or Fridays at 2 p.m. at the Mustang Statue outside of the University Union
September: 23, 27, 30
October: 4, 7, 11, 14, 18, 21, 25, 28
November: 1, 4, 8, 15, 18, 22
December: 2, 6
If you are a special group requesting a tour outside of the regularly offered tour times please email the COSAM Ambassadors Tours Chair, Cailyn Wolberg (wolbergca@gmail.com). In the subject line of your email to Cailyn please enter "Special Group Tour Request".
Related Content