Cal Poly Helps Test Project Natick Underwater Datacenter
Project Natick, aimed at developing more sustainable and efficient cloud data centers, was recently tested at the university's Port San Luis Harbor pier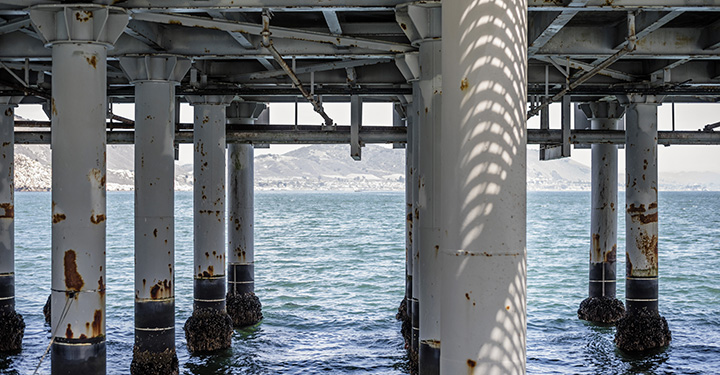 Cal Poly's research pier is located in Port San Luis Harbor. Microsoft recently completed a 105-day
trial of an underwater data center that was launched from the Cal Poly Pier. 
SAN LUIS OBISPO — Faster, more environmentally friendly data may be coming to coastlines worldwide, and Cal Poly played a key role in early testing.
As reported by the New York Times and other national media, Microsoft recently completed a 105-day trial of a self-contained, undersea datacenter, codenamed Project Natick. The capsule spent its 15-week underwater deployment powered and instrumented at the end of the Cal Poly Pier in Port San Luis Harbor in San Luis Obispo, Calif.
Datacenters are groups of servers that essentially power the Internet. These millions of servers, otherwise known as the cloud, support billions of smartphones, tablets and computers worldwide and require a lot of energy, which generates a lot of heat. By placing datacenters in the ocean, the computing industry can use seawater as a more efficient cooling agent and greatly reduce its energy consumption and the associated carbon emissions.
Another benefit to subsea datacenters is increased Internet speeds. Half of the world's population lives near coastlines, but many datacenters are housed much farther inland. The shorter the distance between the datacenter and the user, the faster people will receive their emails, social network updates, streaming media and search results. These new datacenters might also be more compact than the current version.
"This is a potentially disruptive technology, and we're excited to be involved in supporting the initial testing deployment of Microsoft's Project Natick datacenter," said Dean Wendt, director of the Center for Coastal Marine Sciences and the university's dean of research. "Ultimately, undersea datacenters, cooled by seawater and powered by ocean wave, ocean currents and offshore wind energy represent a more economic and low-carbon path for the expanding role that cloud computing represents."
The limited-access Cal Poly Pier provided an ideal location for the initial datacenter deployment. The pier offers land-based infrastructure such as industrial-level electric power, internet connectivity and workspace to set up computers and instrumentation almost a kilometer out into the ocean.
"Project Natick reflects Microsoft's ongoing quest for cloud datacenter solutions that offer rapid provisioning, lower costs, high responsiveness, and are more environmentally sustainable," said Ben Cutler, Project Natick manager, Microsoft Research. "The Cal Poly Pier played an essential role in our ability to conduct the kind of real-world problem solving involved in testing our undersea data center project."
The university, meanwhile, believes the recent Microsoft project illustrates how its Port San Luis Harbor facility could play a role in other groundbreaking research. 
"Our leading-edge facilities and unique location offer so many opportunities for public-private partnerships," Wendt said. "We hope to increase these kinds of collaboration with the industry, especially as it relates to developing our nation's blue and green economy."
Related Content