Bailey College Standout Students
Bailey College of Science and Mathematics students do amazing things. Here are highlights of accomplishments by some over the past year.
Nick Androski
Physics
Androski was a summer intern for a National Science Foundation Research Experiences for Undergraduates site at the Center of Astrophysics, which is a collaboration between Harvard College Observatory and the Smithsonian Astrophysical Observatory. The 10-week summer internship helps prepare students with the skills necessary for a successful scientific career. Androski is currently conducting research with Elizabeth Jeffery, a physics professor and Bailey College Astronomy Research Fellow.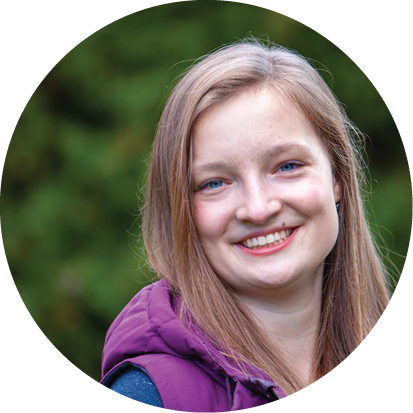 Madeleine Goertz
Mathematics
Goertz won first place at the CSU Research Conference in the Physical and Mathematical Sciences category. She conducted research in algebraic geometry and illustrated that similar triangles at various orientations can be represented uniquely by points on the surface of a donut shape referred to as a "torus" in mathematics.
Christina Ruiz
Biological Sciences
Ruiz received a 2023 California State University Trustees' Scholar Award for Outstanding Achievement. She's studying to become a medical practitioner who helps low-income minority groups gain better access to health care. Ruiz was selected for superior academic performance, personal accomplishments, community service and financial need. She received a $7,000 scholarship as one of four William Randolph Hearst Scholars.
McClain Kressman
Biological Sciences, '23 
Kressman won the 2023 Innovation Quest, hosted by Cal Poly's Center for Innovation and Entrepreneurship, after launching his startup, BioGlyph, in partnership with Nico Galin, a recent UC Berkeley alumnus. The company offers software tools for pharmaceutical drug design.
Jake Roth
Marine Sciences, '23
Roth was named among the 2023 cohort of the African American Scholar Program started by the Aquarium of the Pacific in Long Beach. The scholarship provides $10,000 to support each recipient's studies and exploration of fields related to the work of the aquarium. Roth will participate in various aquarium programs, including writing for the member magazine or social media, serving as a judge in the organization's high school film festival and as an aquarium educator at "Ask a Scientist" events. The scholars also attend a fall symposium to strengthen their connection to the aquarium and to each other.
Audrey Sarin
Marine Sciences, '23
Sarin received a National Science Foundation fellowship to support her plans to pursue a graduate degree at the Moss Landing Marine Labs' master's degree program. The fellowship will help Sarin pursue research interests and reach her goal of becoming a professor. She wrote her senior thesis on microplastic impact on sea urchin larvae.
Robin Bedard
Biological Sciences, graduate student
Megan Rottenborn
Biological Sciences, '22
Bedard and Rottenborn took first place at the California State University (CSU) Research Conference in the Behavioral, Social Sciences, and Public Administration category for their work in the Physiological Ecology of Reptiles Lab (PERL) lab with biological sciences Professor and PERL Director Emily Taylor. Their study focused on obtaining data on policies for relocating nuisance snakes in the continental U.S. and comparing the policies with data on actual procedures being performed by snake relocators.
Noel Clark
Marine Sciences, '21
Clark won a National Science Foundation fellowship for her current studies as a master's student at Colorado State University's Fish, Wildlife and Conservation Biology program. Clark is studying native Colorado River cutthroat trout genomics and previously was a researcher with the Pismo clam project in the Cal Poly Marine Conservation Lab, which led to her interest in fisheries research and management.
Related Content