News and Events
2023
Cal Poly Awarded $475,000 Grant for Inclusive Teaching in STEM Fields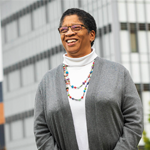 The Learn by Doing campus is among 104 public and private colleges and universities to further develop new more-inclusive teaching methods to attract a greater number of underrepresented students to science, technology, engineering and mathematics.
Read more about the Cal Poly Grant
2022
With New Year's Around The Corner, CSM Student Leading the Rose Float Team
Cal Poly's Rose Float has existed for more than seven decades. The CSM student president of this year's project has participated on the team for four straight years.
Read more about the Rose Float Team
Cal Poly Pier to Host First In-Person Open House in Two Years on Oct. 29
Cal Poly is hosting a public event on Oct. 29, 2022, showcasing marine science at its pier in Avila Beach. The Pier Open House will take place from 9 a.m. to 2 p.m. 
Read more about the Cal Poly Pier Open House
Technology and infant development focus of $2.7 million public health study 
Cal Poly Kinesiology and Public Health Professor Alison Ventura aims to better understand how mothers' use of mobile devices may impact development during an infant's first year.
Read more about the technology and child development study here 
Public Health Research Grant Assesses Cardiovascular Health
A research team led by Suzanne Phelan, director of the Center for Health Research and a Cal Poly professor of kinesiology and public health, received a $5.6 million award from the National Institutes of Health for a study related to pregnant women and infants.
Read more about the study on mothers' health here
Chemistry Lab Creates Novel Eco-Friendly Glue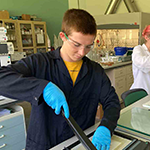 A new type of glue created by a Cal Poly chemistry lab, in collaboration with an East Coast company, is designed to break down more easily to help recycle consumer materials. 
Read about the innovative glue here
School of Education to begin grant study on dyslexia teaching guidelines
The School of Education (SOE) was awarded a $21,000 grant by the California Commission on Teacher Credentialing to help incorporate required dyslexia guidelines into its training for aspiring K-12 teachers. 
Read more about the dyslexia education award here 
Learn by Doing Lab Uses Body Donations to Teach High School Students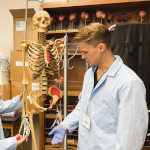 Through a rare opportunity to observe the human body in a form they likely will never forget, Central Coast high school students visited Cal Poly's first Learn by Doing Lab Body Donation program site this spring to study actual, dissected cadavers.
Read more about the Donated Cadavers >
Polymers and Coatings Students Win Research Presentations
Students and faculty in Cal Poly's Polymers and Coatings   Program took top honors at the biannual Western Coatings   Symposium and Show, the premier event for the paint and coatings industry in the Western U.S.
Read more about the polymers and coatings awards.
New Drone Program Gets Seal of Approval


A group of student researchers is using a drone to count elephant seals on the Central Coast.
Read more about elephant seal population surveys
Student Research Conference Celebrates Two Decades
The college's year-end event returned in person after a multiyear hiatus and featured more than 80 poster displays and 40 presentations at the Baker Center with new alumni mentoring sessions.
Read more about the conference >
Biology professor receives second career Fulbright Award
Botanist Nishi Rajakaruna had a big year! He earned multiple career honors and an opportunity to return to South Africa to research and teach.
Read more about Nishi's Fulbright award >
Marine science expands horizons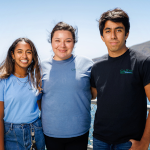 College Ambassadors welcome Lindsay High learners from Tulare County to Cal Poly and the pier to inspire teens to learn about aquatic life and earning a university degree.
Read about the Ambassadors and outreach >
Postdoc program offers rare opportunity
A unique CSM program offers future college educators and industry professionals a combination of research, teaching and mentorship in all aspects of their postdoc work.
Read more about the Frost-funded postdocs >
---
Related Content