CSM Ambassadors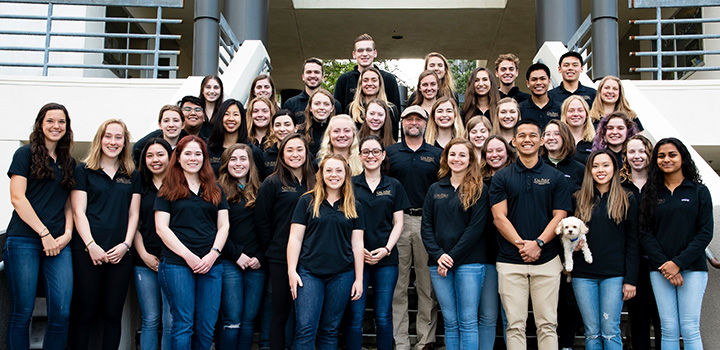 College of Science and Mathematics Ambassadors are motivated students dedicated to promoting the College of Science and Mathematics (CSM) and encouraging strong relationships between faculty, staff and students within the college.
CSM Ambassadors are the links between the college, its faculty and students, alumni, parents, industry and the local community. Ambassadors volunteer for the organization because they enjoy sharing the amazing Learn by Doing opportunities that take place in the college with current and prospective students, alumni, parents, college supporters and community members by giving tours and participating in both college and university-wide events.
Ambassadors are passionate about sharing their knowledge of CSM and personal experiences as CSM students with prospective students and families. If you would like to schedule a College of Science and Mathematics Tour led by CSM Ambassadors, please visit https://www.calpoly.edu/tours.
Students chosen to become Ambassadors enjoy opportunities to enhance their leadership skills while gaining invaluable knowledge about Cal Poly. They also develop close working relationships with the CSM dean, department chairs, faculty and staff.
Summer 2022 Tours
There will be both virtual and in-person tour sessions over the summer break.
VIRTUAL TOURS will be held from 11:10 a.m. to 12:00 p.m. on the following days:
*Friday, 07/08/2022
*Friday, 08/05/2022
*Friday, 09/02/2022
*Virtual tours will be held over Zoom. Please see your registration confirmation for the link.
IN-PERSON TOURS will be held from 11:10 a.m. to 12:00 p.m. on the following days:
*Friday, 06/24/2022
*Friday, 07/22/2022
*Friday, 08/19/2022
*In-person yours will start at the Mustang Statue by the University Union (UU) and Administration Building (Building 1).
How to Attend a Tour:
You can register for a tour at this link (Cal Poly | Learn by Doing) under Student-Led Walking Tours. Find "Science and Mathematics" and select your desired tour time and date.
If you have any questions, please email cosam-ambassadors@calpoly.edu.
Follow @cp_cosamambassadors (Instagram) for more information and updates!
Tour Route
Please see the map below for the Summer 2022 tour route.

Stop 1: Mustang Statue
Stop 2: Building 25, Faculty Offices East
Stop 3: Building 33, Fischer Science Center
Stop 4: Building 53, Science North
Stop 5: William and Linda Frost Center for Research and Innovation
Stop 6-7: Building 180, Baker Science
Stop 8: Building 43A, Kinesiology & Public Health
Stop 9: Mustang Statue
Recruitment
Applications for CSM Ambassadors is currently closed. Applications will open again in Fall 2022.
Related Content