College Honors Seniors for Contributions
The class of 2021 was filled with talented and accomplished students. The college honored the six students below for academic excellence and service to the college, university and community. From helping historically marginalized communities access services during the pandemic to bringing a national eating disorder prevention program to campus, they made Cal Poly and the surrounding community a better place.
Academic Excellence
Microbiology major Morgan Colling was honored as the college's top academic achiever. Colling maintained a 4.0 GPA throughout her Cal Poly career. She was awarded the American Physiological Society Summer Research Fellowship for research she performed at Michigan Technological University. She was also awarded the Barbara A. Horwitz and John M. Horowitz Outstanding Undergraduate Abstract Award for abstract submission to the 2020 Experimental Biology and a Baker Koob grant to help fund her Cal Poly undergraduate research in catheter-associated urinary tract infections. 
As a resident advisor, Colling mentored and provided support for 50 first-year pre-med students. She also volunteered in Emergency Services at Sierra Vista Regional Medical Center.
"This is a student who only comes once every few years," said biology professor Alejandra Yep, Colling's research advisor. "A 4.0 GPA doesn't accurately describe her. She's brilliant and thoughtful and brings out the best in other people. She's going to be an amazing doctor." Colling plans to teach English in Japan for a year while applying to medical schools.
Contributions to the Objectives and Public Image of the University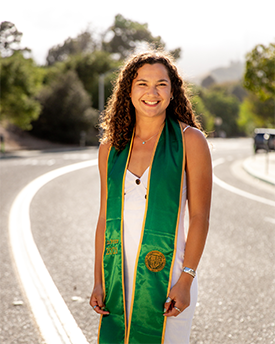 Abigail McIntyre, a kinesiology major, worked with Cal Poly Counseling Services and Campus Health and Wellbeing to bring the national eating disorder prevention program "The Body Positive®" to Cal Poly. The long-term goal of the program is to change the culture around diet and exercise and body image
among Cal Poly students to make it more healthy and inclusive. 
As a sophomore and member of the Cal Poly triathlon team, she coordinated the Heart and Soles 5k fundraiser, which benefits local nonprofits. As a group leader for the PolyFit club, she mentored student volunteers in providing a variety of health appraisal assessments.
McIntyre contributed to the Cal Poly community in multiple ways during the pandemic. She assisted in packing and distributing PPE packets for all students, faculty and staff accessing campus during fall 2020. In one of her multiple faculty-student research projects, she helped assess the credibility of online physical activity resources for older adults during COVID-19.
Contributions to the Objectives and Public Image of the College
Liberal studies major Francisca Camarillo served as president of the Cal Poly Student Parent Coalition Club, which focuses on cultivating a family-inclusive space for pregnant and parenting students to thrive at Cal Poly. As a parent of three children and a full-time student, Camarillo has been active in this organization since its foundation at Cal Poly in 2020.
Camarillo is also a founding member and secretary of the Educators of Color Club, which supports the needs and assets of aspiring teachers of color. Among many contributions to campus organizations, she provided Mixtec translation for the Women and Infants Mobile Health Unit and volunteered for Cal Poly's DREAM Center.
Camarillo has served as both a volunteer and case worker for the Mixteco Indigena Community Organizing Project. During the COVID-19 pandemic she provided essential counseling services in Mixteco and Spanish to community members about assistance options as well as vaccine access. Her work has been instrumental in ensuring equitable access to COVID relief for marginalized communities in Santa Maria.
Service to the Community
Cecilia Guzman, a liberal studies major, founded the Educators of Color club and served as its first president. Two notable community service projects include a fall 2020 backpack drive for the farm workers community in Oceano. Guzman raised more than $2,500 to fund meals, gift cards, groceries and 70 backpacks filled with paper, pens, pencils, calculators, headphones and other school supplies needed for distance learning. She led similar organizing efforts in partnership with Mixteco/Indigena Community Organizing Project to gift farmworkers' families a pajama set, a toy and some books.
In collaboration with her former sorority committee, Guzman organized a college fair with Santa Maria High School. Over 20 universities from California and Arizona participated. She also facilitated a workshop discussion with more than 200 middle and high school students on financial aid, the application process and the differences between university systems.
Guzman volunteered with College Bound Today as a mentor at Los Osos Middle School, inspiring and supporting students' interests in college and career goals and supporting their transition from middle school to high school.
Outstanding Graduate Students
Ashley Wilson, a biology student, and Brenden Posson, a polymers and coatings student, were both named outstanding graduate student. Wilson's impressive list of research efforts include a leadership role in investigating the influence of artificial night lighting on the classic yucca-yucca moth mutualism and an ambitious large-scale data synthesis project seeking to understand how bird abundance changes with exposure to artificial night lighting and anthropogenic noise. She also worked with a large team of researchers outlining a new framework for understanding the mechanisms by which artificial night lighting and anthropogenic noise affect animals and how species traits may be predictive of responses. Her research efforts resulted in multiple papers published in peer-reviewed journals.
A trailblazer in the lab, Posson developed protocols for performing in-situ light scattering experiments to monitor colloid nucleation. His thesis experiments require the ability to synthesize different pieces of information that have not yet been linked in the literature. Posson served as a mentor to undergraduates and fellow graduate students. He is also the recipient of multiple award from the polymer and coatings industry including Los Angeles Society for Coatings Technology's (LASCT) prestigious Dave Kittredge Scholarship as well as the Golden Gate Society for Coatings Technology's (GGSCT) Alfred Apfel and Robert Minucciani Scholarship.
Related Content