Kinesiology Professor Honored with Young Scholar Award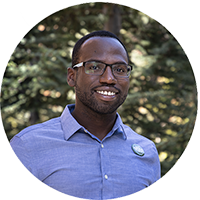 Jafra Thomas, a professor in the Kinesiology and Public Health Department, received the 2021 Hally Beth Poindexter Young Scholar Award from the National Association for Kinesiology in Higher Education (NAKHE). The award recognizes the contributions of an early-career faculty member whose scholarship focuses on interdisciplinary issues facing kinesiology, physical education or general higher education. 
"I feel a great sense of honor that our work received this distinguished award," Thomas said. "Through partnering with Cal Poly students to study equity issues in physical activity promotion material, this project gave me the chance to build on Dr. Poindexter's legacy and contribute to the vision she painted for the field."
Thomas' and his students' award-winning research focused on how easy or difficult it is to read promotional materials for physical activity. The research team looked for common conclusions made from 24 readability studies on the issue.
"This was a very hands-on project," said biology alumna Akuekegbe Uwadiale ('20). "We had to search out articles, learn how to use the databases, learn how to produce a manuscript, and create video presentations among other things."
The researchers found some consistent conclusions among existing readability studies. Most studies found that promotional materials are not as easy to read as they should be. Multiple studies also concluded that the organizations making the materials should be responsible for making them easy to understand.
Thomas and his team identified three recommendations that many studies had in common:
•    Use shorter, direct sentences
•    Choose common words
•    Evaluate materials by pretesting with a sample audience
Thomas and his team argued that study authors should more strongly tell their readers to take action to make promotional materials more readable.
Thomas' team's analysis will be published in the journal Quest, giving students the full range of the research experience, from design through communication of their results to the scientific community. Kinesiology major Nikki Watson discovered that research is a rewarding Learn by Doing experience that took her beyond her coursework.
"Doing real-world research has given me opportunities and knowledge that I could have never gotten from a classroom," Watson said. "It has taught me how to tailor my writing and present data in a meaningful way. Additionally, working with a professor towards a publication has given me professional development that I would have never gotten in a classroom setting."
With these skills, Watson and Uwadiale will be ready for whatever comes next.
 
Related Content