Student Research Conference Celebrates Two Decades
June 20, 2022
Marking its 20th anniversary, the College of Science and Mathematics Student Research Conference was held May 12-13 — back in person for the first time in three years. 
And the event launched its new alumni mentorship sessions, providing students insights into career pathways. 
Students presented their undergraduate research through more than 80 poster displays and approximately 40 talks in front of audiences, covering a wide range of topics.  
"Students learned by having the opportunity to communicate their work to audiences from across multiple disciplines," said Elena Keeling, a biological sciences professor and event coordinator. "Students take ownership and think hard about why they really care about their project and how to explain it to those beyond those in their closest circles." 
Keeling added, "The idea is that they should be able to demonstrate their work to those who aren't familiar with the subject matter." 
Projects covered topics such as why Central Coast community members with Hepatitis C tend to avoid seeking treatment and e-cigarette prevention messaging (public health), the impact of the deer mouse predation on the rare northern island mallow plant on Anacapa Island and effects of oil spills on southern sea otters (biology). 
Other research topics covered related to solar electric cooking and large nearby galaxies (physics); polymers for drug delivery (chemistry); and network analysis of COVID-19 in the U.S. (math). 
"The 20th anniversary of this conference marked a historic moment that celebrated years of outstanding work by faculty and students," said Dean Wendt, dean of the College of Science and Mathematics. "This research is exemplary of the hands-on, learn-by-doing approach and it contributes to new understanding helping solve real-world problems." 
This research is exemplary of the hands-on, Learn by Doing approach, and it contributes to new understanding helping solve real-world problems.

Dean Wendt, Dean of the College of Science and Mathematics
Third-year kinesiology major Mia Napolitano was inspired to explore inequities that minor league baseball players face compared to compensation at the top level of the sport. Many earn well below a livable wage. 
"I was at a minor league game where fans of the Round Rock Express (in Texas) started collecting money from other fans after players on the team hit home runs to give to them," Napolitano said. "It made me curious about looking into their value and compensation." 
Throughout the College of Science and Mathematics, more than 52% of all peer-reviewed, journal publications have undergraduate student coauthors. 
"That's an outstanding achievement that sets our college apart in undergraduate science and math research nationwide," Wendt said. 
Jean Davidson, a Cal Poly biological sciences professor, said the students did an outstanding job of preparing for the conference. 
"They were ready to present and answer questions," Davidson said. "They spent significant amounts of time rehearsing to become comfortable in front of an audience. I'm so proud of them."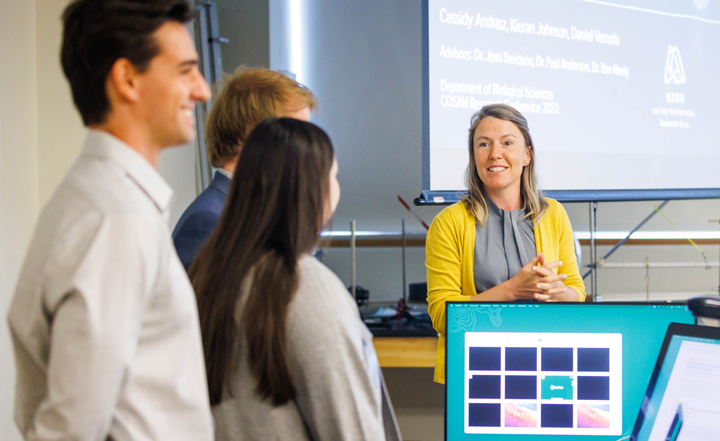 Biological sciences professor Jean Davidson (far right) and interdisciplinary students (from left to right) Daniel Vernola, Cassidy Andrasz and Kieran Johnson presented their research using subspecies databases to identify biomarkers for hypertrophic cardiomyopathy in southern sea otters. 
---
A research team of students led by biological sciences professor Alejandra Yep-Rodriguez and liberal studies professor Jasmine Nation served as part of an ongoing Nuestra Ciencia (meaning "Our Science" in Spanish) project that teaches microbiology in Spanish to kindergarten through sixth grade students at Pacheco Elementary, a bilingual school in San Luis Obispo. 
Yep-Rodriguez said the work was inspired informally by her involvement as a parent at the school, observing the need for lessons on the spread of disease. 
A cross-disciplinary student team of Ruby Moreno, a biomedical engineering major from Sacramento, California; Hector Reyes, a psychology senior from Calexico, California; Adrian Torres, a political science major from Delano, California; Ariann Landaverde, an environmental management and protection major from Van Nuys, California; a sociology major Natali Ceja from Oakland, California; and Chanel De Smet, a biological sciences major from Morgan Hill, California. 
They coordinated educational videos in English and in Spanish on how vaccines take effect in the body. They also made classroom visits to explain herd immunity to address misconceptions that can affect individuals and the success of public health and environmental policies. 
"Growing up, I was always looking for a role model in the STEM field but I never saw any Latinx figures, specifically a Latina who was pursuing a STEM major," Landaverde said. "I hope to serve as that role model for the kids." 
An objective of Nuestra Ciencia is to promote Latinx representation in STEM fields as an economic and social justice issue. 
"Our goal is that the children begin to think about important concepts that we present to them so it can spark their interest in science at an early age," Reyes said. "At the same time, we want them to see us and feel like they can follow our steps and become scientists one day." 
Reyes said "eventually, we hope to have enough lessons created that we can begin attending and reteaching them on a quarterly basis at Pacheco Elementary." 
De Smet added that she grew up in a home where English was her second language. "I understand the exact position some of these kids who just moved from a different country are in," De Smet said. "It's truly empowering to be able to teach kids in their home language because I wish there was a program like this when I was learning English." 
Psychology student Hector Fernando Reyes (left) and biological sciences student Chanel de Smet (right) explaining their research project, Nuestra Ciencia, that teaches microbiology in Spanish to bilingual elementary students.
---
Conference alumni mentors included professionals in health care, academia, biotech and ecology who returned to campus to answer student questions and discuss career opportunities. 
Dr. Jeffrey Jasper, (Chemistry '84), senior vice president of research at Foster City-based Terns Pharmaceuticals, led the "Opportunities in the Pharmaceutical Industry" session, noting the current job market is particularly strong for Cal Poly Science and Math grads. 
"Coming from Cal Pol, you will have many opportunities," Jasper said. "Companies are eager to hire Cal Poly students with Bachelor of Science degrees. Applicants from Cal Poly often will be snapped up immediately."  
Jasper encouraged students to attend biotech conferences and forums and to update their LinkedIn accounts. 
"Students asked questions about the current employment market, Ph.D. programs, and the differences between going into industry and academia," said Jasper, who holds a doctorate in pharmacology from the University of California, San Diego. "They have many options and it often it depends on a student's work and personal interests in the career route they choose."
---
Visit the CSM Research Conference web page.
Support undergraduate research in the College of Science and Mathematics.
Related Content