Winter 2015 Newsletter
Greetings from Dean Bailey
Cal Poly research makes a real difference in the world. National and international media recently covered Biology Professor Clinton Francis's research on the effects of noise pollution on birds. Cal Poly students are now helping Francis continue this study because in the College of Science & Mathematics, it's all about our students.
College and University News
Baker Center Receives LEED Gold Certification
The Warren J. Baker Center for Science and Mathematics has been awarded gold for being green. The building earned LEED gold certification by the U.S. Green Building Council in January, a designation that is difficult to attain for science laboratory buildings. LEED — Leadership in Energy and Environmental Design — is the national benchmark for the design, construction and operation of high-performance green buildings. Certification means a building has met rigorous standards for sustainability, water and energy efficiency, resource selection and environmental quality.
Read more about LEED gold certification
Cal Poly and Santa Maria-Bonita School District Receive $1.8 Million Math Education Grant
Cal Poly and the Santa Maria-Bonita School District received a $1.8 million California Mathematics and Science Partnership grant from the state Department of Education to fund a program aimed at improving elementary and middle school student achievement in mathematics.
Read more about the education grant
Faculty Notes
College of Science & Mathematics faculty have been active in their fields this year. See what they've published about monarch butterflies, the origins of the universe, and walkable communities, to mention a few.
Real-World Research
Cal Poly Study Sheds Light on Mothers' Bottle-Feeding Behavior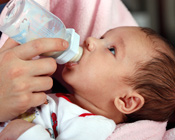 Parents who are bottle-feeding may be able to decrease their infants' risk for overfeeding simply by using a weighted, opaque bottle. In a Cal Poly study recently published in the journal Appetite, researchers found that the amount of infant formula some mothers fed their babies depended on whether the mothers could see and feel how full the bottle was.
Read more about the bottle-feeding research
Human Noise Pollution Changes Bird Behavior Patterns According to Cal Poly Study
Human-made noise is more than annoying for a variety of bird species — it's changing their behavior in profound ways. A Cal Poly study published in the journal Global Change Biology reveals that the song, diet and foraging location of birds in Europe, North America and the Caribbean can be predicted based on human-made background noise.
Read more about the effects of human noise on birds
Today's Students
Statistics Student Wins Second Place in National Undergraduate Statistics Project Competition
Jimmy Wong has been busy. Over the last year, the senior statistics major has programmed apps for statistics education, presented at national conferences, and worked on research projects with two professors. Not to mention winning second place in the National Undergraduate Statistics Project Competition.
Alumni News
Cal Poly Liberal Studies Alumna Begins Fulbright Program in Malaysia
Cal Poly alumna Trisha Huynh was awarded a Fulbright student grant to serve in the English Teaching Assistant Program in Malaysia, which she started at the beginning of January. She will assist a local middle or high school English teacher in a rural area with high needs schools. Huynh is only the second Cal Poly student  Fulbright recipient in 20 years.
Read more about the Fulbright Program in Malaysia
Related Content