Spring Newsletter - 2016
Featured Articles
---
Alumnus Pledges $20 Million for Student-Faculty Research Building
William L. Frost (B.S., Biochemistry, 1972) and his wife, Linda, recently pledged $20 million to support construction of a new student-faculty research building to be located near the Baker Center. "We are thankful for the Frosts' generosity and for the example they set for the entire CSU," said CSU Chancellor Timothy P. White.
Letter from Dean Bailey
I'm delighted that Bill and Linda Frost chose to make such a generous pledge to Cal Poly, and I want to share with you why they think undergraduate research is so important.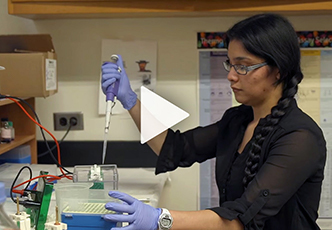 Video: Becoming Scientists
Hear about the impact of undergraduate research directly from students and faculty: "I was able to answer my own questions and figure it out," said sophomore chemistry major Taylor Page.
Where Did Cal Poly Land on Forbes's Best Value List?
Forbes ranked Cal Poly sixth among California public universities. Find out how we fared nationwide and who else put Cal Poly toward the top for return on investment.
Bio Major Takes First at CSU Research Competition
Mason Dubois took top honors in the biological and agricultural sciences division at the CSU Student Research Competition. Dubois's research focused on how lizards react to high temperatures.
---
More News
Data Hackers Take Top Honors
One giant data set plus 48 hours equaled a first and second place finish for Cal Poly teams at the undergraduate statistics hackathon called DataFest. One team, going by the name n=30, took top honors in the best insight category while The Alphas placed second in the best use of external data category.
Faculty Notes
College of Science and Mathematics faculty have published articles on topics including low-redshift Seyfert galaxies and Grothendieck's Proper Base Change theorem and received grants to study eel grass, develop new ways to use solar panels, and much more. They've also been honored with awards both on and off campus.
Read more about faculty accomplishments ›
College Honors Outstanding Seniors
Each spring, the college honors an impressive group of seniors who have excelled in a variety of areas. This year's group is no exception, with accomplishments ranging from doing research at Johns Hopkins University, to being named Big West Scholar-Athlete of the Year, to working at an orphanage in Cusco, Peru.
Biochem Major Lands American Chemical Society Scholarship
Ifeh Akano remembers the moment she decided to pursue her love of math and science. It was in her freshman year during a general chemistry for physical science and engineering course. Amid the microscopes and myriad pieces of lab equipment, she decided to switch her major from computer engineering to biochemistry — and she hasn't looked back since.
Related Content