Summer 2018 Newsletter
Featured Articles
---
Seniors Honored for Excellence in Academics and Service 
The college honored six seniors and one club for academic excellence and service to the college, university and community. The students boasted a wide range of contributions from helping victims of the massive and deadly Tubbs Fire in Santa Rosa last fall to counseling fellow students about mental health concerns.
Dean Wendt Looks Back on First Year as Dean of the College
Dean Wendt reflects on the accomplishments of the students, faculty and staff in the College of Science and Mathematics, including the class of 2018's more than 600 graduates.​ 
NSF Invests in Cal Poly Grads
Biochemistry major Tyler Sisley and biology major Brandon Strong received prestigious National Science Foundation Graduate Research Fellowships. Each award will fund three years of their graduate school studies.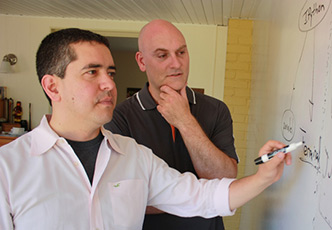 Jupyter Team Joins World Wide Web Inventor as Top Software Awardee
The international team that developed Project Jupyter received one of the computing world's top awards. Past recipients include the inventors of the World Wide Web and the UNIX operating system.
Physics Professor Receives NSF's Prestigious Early Award
Physics Professor Stephanie Wissel received the National Science Foundation's most prestigious award for new faculty, only the fifth Cal Poly professor to earn the honor.
---
More News
Kinesiology and Public Health Professor Receives CSU Award for Outstanding Scholarship
Cal Poly kinesiology and public health Professor Suzanne Phelan has received the prestigious, CSU-wide Wang Family Excellence Award for outstanding faculty scholarship. Her research on how to help mothers achieve healthy weight management before, during and after pregnancy is influential in the field of obesity prevention. 
Read more about Phelan's research ​›
Biology Professor Publishes Guide to Iconic California Plants
Biology professor and author Matt Ritter is on a mission to "get people stoked on plants." With a foreword from Gov. Jerry Brown, Ritter's new book, "California Plants: A Guide to Our Iconic Flora," presents dazzling photos and key details on the Golden State's must-know native plants.
Read more about the California plant guide ›
"Cool Lizards" Earn Biology Student First Place at CSU Student Research Competition
Biology student Daniel Haro took first place in the Biological and Agricultural Sciences category at the CSU Student Research Competition for his study titled "How Cool Can Lizards Be? An Investigation with Two Populations of the Italian Wall Lizard (Podarcis siculus)." Haro investigated the effects of cold acclimation on cold tolerance and other physiological variables.
Read more about the winning student researchers ›
Royal Society of New Zealand Supports Physics Research on Medical Diagnostics
Cal Poly Physics professor Colleen Marlow and her Kiwi collaborators received the prestigious Marsden Award from the Royal Society of New Zealand. The team will receive more than $680,000 to support ongoing research that may contribute to the advancement of medical diagnostics, such as hormone-level detection.
Read more about the research on medical diagnostics ›
College Faculty Publish on Noise Pollution, Obesity Prevention and Much More
Faculty members in the College of Science and Mathematics contributed real-world research to fields ranging from obesity prevention, to black holes, to truncated Toepltiz operators. They were recognized with multiple awards and received millions of dollars in federal funding.
Read more about faculty achievements ›
Related Content