Spring 2011
Greetings From The College of Science and Mathematics
Dean Bailey and COSAM
Ambassadors at Open House
Hello and welcome to the third edition of the College of Science and Mathematics electronic newsletter. We hope all of our alumni, parents and friends enjoy this periodic update. Much has happened on campus during Spring Quarter.
Our college saw more than 1,000 guests April 15 as prospective students, their families and friends came to Admitted Student Preview Day. They packed Chumash Auditorium for the college welcome. Our visitors were just a few of the 6,718 students (with an average GPA of 3.94) who applied to the college to fill an expected 680 available seats for fall 2011.
Soon, a little more than 500 students will graduate -- joining the ranks of our alumni and heading out to make a difference in the world.
Progress on construction of the new Warren J. Baker Center for Science and Mathematics is continuing at an amazing pace, and we anticipate that sometime in May of 2013 we will see the center completed. This is all so wonderful and exciting.
As always, Cal Poly is so grateful to each of you for your continuous encouragement and support of our projects, our students, and our faculty. Let me extend my own personal appreciation and thank you as well. And alumni: let us know how you're doing and what you're up to. Drop me a note or e-mail the college at cosam@calpoly.edu.
Phil Bailey, Dean
College of Science and Mathematics
pbailey@calpoly.edu
College News
Instructor Receives Presidential Award for Science Teaching Excellence
Cal Poly Biology Teacher in Residence and alumna Anne Marie Bergen (B.S., Biological Sciences, 1985) received the prestigious Presidential Award for Excellence in Mathematics and Science Teaching. Bergen was among 85 math and science teachers from across the nation named by President Obama as award recipients. It's not the first recognition for Bergen, who was named California's Teacher of the Year in 2003, and Stanislaus County Teacher of the Year in 2002. In 2006 she received the Amgen Award for Science Teaching Excellence. She was named an Honored Alumna in 2008. Last fall, she came to Cal Poly to serve as a Teacher in Residence in the Biological Sciences Department, instructing science classes and labs required for the students in the university's Liberal Studies Department – the undergraduates seeking to become K-12 teachers. Bergen is helping the university reshape the curriculum in several courses targeted to future classroom teachers.
More on Bergen | Read the SLO Tribune story on Bergen
Putnam Math Competition: 62 is a Lovely Number
It's one of the most difficult math competitions in North America, it's been written about in Time Magazine, and this year Cal Poly moved up in the rankings at the annual Putnam Exam. Cal Poly ranked 62 among 546 participating universities in the United States and Canada. The results were released recently by the Mathematical Association of America. Math majors Paul Coombs and Matthew Tytel tied as Cal Poly's top Putnam scorers with 38 points each. The two achieved Cal Poly's highest individual score in recent memory, said Math Professor Lawrence Sze, who taught the group. Tytel and Coombs ranked 383 out of 4,296 competitors.
More on the 2011 Cal Poly Putnam Team
Try your hand at some problems from earlier Putnam Exams
Chemistry Students Take First Place in CSU Research Competition
Two Cal Poly chemistry students took first place for their research project on molecule ring bonds in the annual California State University Research Competition. Undergraduate students Kellan Candee from Paso Robles and Melanie Miller from Fremont were awarded first place in the physical and mathematical sciences category for their research investigating the reactions of strained molecules. An understanding of the behavior of these compounds could lead to the development of new methods for making organic molecules with pharmacological and therapeutic benefits. Their faculty advisor was Professor Eric Kantorowski.
More on the chemistry win
Cal Poly Pier & Center for Marine Sciences Showcased
More than 900 people turned out to tour the Cal Poly Pier and learn about the Center for Coastal Marine Sciences April 23. They heard from more than 60 students and dozens of professors and staff about current Cal Poly research. The day was popular with parents and children - who lined up to "drive" one of two remotely operated vehicles on either side of the pier and lined the touch-tanks full of starfish, sun stars, red octopus, anemones, sand crabs and more. Current Cal Poly student Cate Webster presented hands-on research about keeping barnacles at bay with environmentally-friendly boat coatings. "There have been a lot of really curious people, which is really nice. Some of the older kids have been interested and said, 'I want to be a scientist.' Being here and presenting makes me feel like I'm doing something really important," she said.
See the photos from Pier Day
Open House 2011: See the Photos
More than 1,000 prospective students and their families showed up in Chumash Auditorium for the College of Science and Mathematics welcome on Admitted Students Preview Day April 15. Overall, more than 7,000 prospective students and their friends and families were on campus for the day. Crowds were even larger at Open House on April 16. Showcase events included Chemistry Magic shows, the Poly Royal Parade, the annual Design Village architecture competition, Roborodentia robot wars, Open House concert and demonstrations and booths sponsored by more than 200 student clubs.
See campus photos from Open House 2011
See COSAM Admitted Students Preview Day Chemistry Magic show photos
See Biological Sciences Admitted Students Preview Day photos on Facebook
Baker Center Construction: See the Photos
May 1 marked one year since the gala groundbreaking for Cal Poly's Baker Center. Today, the north end of Building 52 is completely demolished and the site is almost fully prepared for construction. Watching the footings being prepared with heavy equipment chopping at bedrock and trucks hauling away soil and rock has attracted the curiosity of many here on campus. More footings, concrete retaining walls, and a few small interior building walls will appear in the next couple of months. And then in July: steel. The center will then start to take shape.
See photos of construction progress this quarter
Check progress live on a web cam
Science in the Community
Kinesiology Program Adapts "Wii" Activity Games for Paralyzed Players
A team of Cal Poly professors and students have created a modified Nintendo Wii system that allows people with quadriplegia to play Wii Sports. The "Wii-B-Fit project" created a universal remote design to incorporate game play of the popular Wii console for individuals with all levels of quadriplegia. The design includes a laptop playboard with simplified action buttons to aid those with limited hand mobility and a hat with sensors that allows the user to mimic the functionality of the Wii-remote to achieve normal game play. Helping the university develop and test the "Wii-B-Fit" project was Mike Ward.
More on Wii
Students Get Ready to Track Hi Mountain Wildlife, Plant Life
Cal Poly's Hi Mountain Lookout project is going into its 10th year this summer. The university will send four paid student interns to staff the remote Forest Service lookout station in the Los Padres National Forest, halfway between Lopez Lake and Santa Margarita on the Central Coast. The interns will be taking shifts monitoring designated mountain areas to document plant and wildlife numbers and species, as well as using radio telemetry to search for any nearby California Condors.The Cal Poly interns are funded by the Forest Service, and stay in the Forest Service lookout station for three days at a time in teams of two through the university's summer quarter. Additional student volunteers also help with research at the station.
More on the Hi Mountain projects
SoloQuad Glides Again
A new team of kinesiology and computer engineering students launched an upgraded SoloQuad kayak May 20 in Morro Bay. The SoloQuad is an adaptive kayak designed for a pilot with quadriplegia or paraplegia. At the first launch of the SoloQuad in spring 2008, the motor overheated, requiring the kayak to be towed back to shore. A new team of six engineering students and two kinesiology students worked on the project from fall quarter 2010 to winter quarter 2011. The pilot for the launch was Bryan Gingg, a Cal Poly alumnus who was the test pilot for the kayak's initial launch in 2008. Gingg has quadriplegia and was able to control the kayak via a sip and puff device that the engineering students reprogrammed to work with the kayak's electric trolling motor. The launch went off without a hitch under foggy skies.
Read more about the SoloQuad project
See photos from the launch
Real World Research
Cal Poly Marine Biology Professor Named 2011 Fulbright Arctic Chair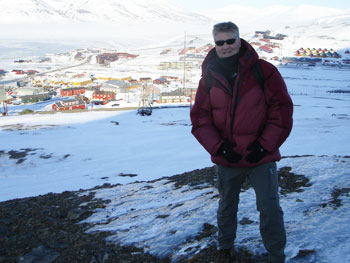 Cal Poly Marine Biology Professor Mark Moline has been named the 2011 Fulbright Arctic Chair, one of the most prestigious awards in the international Fulbright Scholars program. As the Fulbright Arctic Chair, Moline, director of Cal Poly's Center for Coastal Marine Sciences, will conduct research and lecture at the University Centre (UNIS) in Svalbard, Norway, from July through February 2012. This will be the sixth Arctic research trip for Moline. While there, the professor will be using underwater robots to characterize the ocean foraging habitat that is key to a number of Arctic bird species. Only 40 Fulbright Chairs are selected each year from among the ranks of eminent scholars.
More on the professor's Fulbright award
Physics, Chemistry Professors Earn Patents for Field Medicine, Optics
Two Cal Poly College of Science and Mathematics professors have been granted U.S. patents for devices developed through the university's Research and Graduate Programs Office: Physics Professor John Sharpe and Chemistry Professor and Assistant Dean Dane Jones. Professor Jones collaborated with Biomedical Engineering Professor Lanny Griffin on research resulting in a patent for a rapid-setting splint that can be used to treat injuries in the field — from battle to hiking. Sharpe received a patent protection for an optical detection device, a low-cost technique with no moving parts and small power requirements that has industrial applications in the measurement of fluid flow in manufacturing, as well as in personal computer components.
Read more on the professors' patents
National Geographic Grant Sends Professor, Students to Study Dragonflies
One Cal Poly biology professor and her students are turning their eyes to dragonflies to tease out relationships between global warming, development and species survival. Biology Professor Shannon McCauley will be taking three Cal Poly students to the Georgian Bay National Park in Canada this summer to study that topic thanks to a $15,000 grant from the National Geographic Society. The park, in Canada's Great Lakes region, is the largest freshwater archipelago in the world and offers a unique place to study large and small aquatic insect populations, according to the professor.
More on McCauley's dragonfly research
Grad Students Receive Marine Science Research Awards
Three Cal Poly marine science graduate students have received $1,500 awards to support their research projects this summer. Johanna Weston, Anniken Lydon and Carolyn Ewers will each receive the Summer 2011 COAST Student Award for Marine Science Research. The California State University Council on Ocean Affairs, Science and Technology grants the annual awards.All three students are conducting research through the Cal Poly Center for Coastal Marine Sciences.
More on the COAST awards
College Hosts 10th Annual Student Research Conference
Cal Poly's College of Science and Mathematics hosted its 10th Annual Student Research Conference May 12-13. Some 160 students presented posters or talks on topics ranging from breast cancer risk factors to sex differences in rattlesnake brains to health-promoting compounds in wine to Autism management to trapping atoms for quantum computing. The conference celebrates science and our students. By discussing their faculty-supervised research with inquisitive audiences, students gain the experience they need to become professional scientists.
See the full 2011 student research topics list
See Professor Jon Shapiro's photos from the conference
Alumni
Alum is Following in Antarctic Footsteps
Matthew Oliver (B.S., Ecology and Systematic Biology, 1999; M.S., Biology, 2001) is following in the icy footsteps of some of his Cal Poly mentors. Oliver, an oceanographer and assistant professor of biology at the University of Delaware, received the prestigious Presidential Early Career Award for Scientists and Engineers (PECASE) in November 2010. One of his Cal Poly professors, Mark Moline, received the honor in 2002. The two professors crossed paths in Antarctica earlier this year, while both were there pursuing research projects. They also made a short video for an online children's science project.
Read about Oliver in the spring 2011 edition of Cal Poly Magazine
See the Flat Stanley in Antarctica video
Eric Schadt
Courtesy Bioscribe.com
COSAM Alumni in the News
Physics alumna Marita Sablan Beard has been selected as one of only six classroom teachers in the nation to work with scientists aboard NASA's flying Stratospheric Observatory for Infrared Astronomy. Math alumnus Eric E. Schadt has been appointed to lead the new Mount Sinai Institute for Genomics and Multiscale Biology.
Read more about COSAM alumni who made headlines recently
Alumni Notes:
Forensic Scientist and Master Teacher
Marie Samples went on to be assistant director in the Department of Forensic Biology in New York City. Kurt Payne went on to be one of the first California Master Teachers in his district. They both sent in an Alumni Note after the last e-newsletter.
Read more about them & submit your own Alumni Note
Connect with the College of Science and Mathematics
The College of Science and Mathematics is moving many of its periodic publications online. Make sure we have your latest contact information by entering it at www.subscribe.calpoly.edu. Please share this e-newsletter with Cal Poly friends and encourage them to subscribe, too. You can connect with more COSAM alumni in PolyLink, the university's private, password protected alumni directory and interactive alumni map. You'll find it at www.calpolylink.com. If you aren't one of the 19,500 Cal Poly alumni in PolyLink, look for the yellow "I need my code" button to get a password. Are you friendly with Facebook? Like the college and department Facebook pages below for more frequent news updates:
College of Science and Mathematics Facebook Page: www.facebook.com/calpolyscience
Departments:
Biological Sciences Department on Facebook
Statistics Department on Facebook
 
Not on Facebook? Get COSAM News anytime on our web site
Coming Up
Commencement is June 11
Some 538 students from the College of Science and Mathematics are eligible to participate in Cal Poly's spring commencement ceremonies on Saturday, June 11 in Spanos Stadium.
College of Science and Mathematics students will graduate at the 3 p.m. ceremony, along with students from the College of Agriculture, Food and Environmental Sciences, College of Liberal Arts and Continuing Education.
Students from the College of Architecture and Environmental Design, Orfalea College of Business and College of Engineering will graduate at the 9 a.m. ceremony.
The outdoor ceremonies last just under two hours, and are followed by smaller ceremonies and receptions.
Visit the College of Science and Mathematics Commencement web site for details
Two June Workshops Educators on Teaching with Monarch Butterflies
Cal Poly's Monarch Alert project and the Pacific Grove Museum of Natural History are teaming up with the Monarch Teacher Network (MTN) to host two two-day workshops specially designed for educators on "Teaching and Learning with Monarch Butterflies." 
The cost is $99 per workshop, but a limited number of scholarships are available.  Registration is limited to 50 people per workshop. The Pacific Grove educator workshop is set for June 27-28. The San Luis Obispo workshop is set for June 29-30.
Details and registration forms 
Today's Students
A (Particle) Smashing New Science Teacher
Cal Poly physics grad Kevin Coulombe is on his way to being a smashing high school science teacher.
Coulombe double-minored in astronomy and communications, did his senior project on particle physics, and spent last summer learning how to run parts of the planet's most complicated international science experiments. He's set to return to the experiment again this summer to train other Cal Poly students.
The experiment is ALICE, which stands for A Large Ion Collider Experiment. It's going on now at the CERN Large Hadron Collider outside Geneva, Switzerland. Scientists from around the world are using the collider to fire sub-atomic particles at each other at millions of miles an hour to see what happens when they meet.
Coulombe was one of the students who traveled with Cal Poly Professor Jennifer Klay to work on ALICE in summer 2010 through a National Science Foundation grant. While there, he qualified as a shift leader for the experiment – the only undergraduate student to receive that designation so far, according to ALICE officials.
More on Coulombe
2011 Senior Recognition Awards
Microbiology senior Lauren Blomberg,  microbiology/biochemistry double major Nicholas Dindio, kinesiology senior Caleigh Cox and the Alpha Chi Sigma chemistry club all received top honors at the 2011 College of Science and Mathematics Awards, held in May.
Find out more & see banquet photos
Inspiring Grads:
Erica Navarro
 
Erica Navarro will be the first person in her extended family to earn a college degree when she walks in commencement ceremonies June 11 at Cal Poly.
Financial aid, scholarships, support from her mother and grandmother, and her own work during school breaks got Navarro where she is today. Her mother is a single mother and a cashier at a casino, supporting both Navarro and her younger sister. Her grandmother works as a cook at Mendota High School.
"My grandma has been like both a dad and a grandma to me," Navarro said. "They've both made a lot of sacrifices so I could go to school."
After graduation she's heading to grad school in Northern California to earn a double master's degree in physician assistant studies and public health.
More on Navarro
Related Content