Spring Newsletter 2017
Featured Articles
---
$110 Million Gift Transforms Undergraduate Research
In the largest gift ever to the California State University system, William Frost (Biochemistry, '72) and his wife, Linda, donated $110 million in support of undergraduate research in the College of Science and Mathematics. The Frosts' generosity will help Cal Poly become one of the top undergraduate science and mathematics academic and research programs in the country.
Dean Bailey's Final Letter
A final farewell from Dean Phil Bailey to the students, alumni, faculty and staff of the college. After 48 years of service to Cal Poly and 34 years as dean, he will retire at the end of June — well, mostly.​
Dean Wendt Named New COSAM Dean
Dean Wendt's connections to Cal Poly run deep. A biological sciences alumnus, he has been a professor in the Biological Sciences Department, associate dean of the college and dean of research for the university. 
Liberal Studies Grad Beats Cancer Twice to Walk with Her Class
Two weeks before the start of her sophomore year, liberal studies major Camille Chabot was diagnosed with Stage IV Hodgkin's lymphoma. Through everything that followed, she remained determined to graduate in four years.
Seniors Honored for Outstanding Contributions
Teaching oral hygiene to elementary school students, developing lab protocols, and serving as club presidents are just a few of the contributions this year's senior awardees made to the college, university and community. 
---
More News
Cook Pines Always Lean Toward the Equator
Cal Poly biological sciences professors and students discovered a behavior never before observed in plants — the Cook pine leans toward the equator no matter where it's found in the world. 
Read more about the leaning trees  ​›
Cal Poly-UNC Online Program Improves Weight Loss After Childbirth
An online weight loss program led to significant weight loss in low-income, at-risk mothers during the year following pregnancy, according to a study by Cal Poly kinesiology Professor Suzanne Phelan and Deborah Tate of the University of North Carolina. Nearly one in four women in the U.S. retain more than 10 pounds of their pregnancy weight
Read more about the weight loss program ›
Biology Students Awarded NSF Research Fellowships
Two Cal Poly biological sciences students this year have been awarded National Science Foundation graduate research fellowships. Erin Aiello, pictured at left, and Heather Neldner will each receive $34,000 for three years within a five-year period in addition to a cost-of-education allowance as part of the fellowships.
Read more about the fellowship recipients ›
Polymers Students Take Top Spots at Two Conferences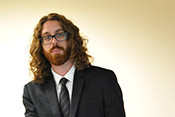 Cal Poly students swept the Undergrad Research in Polymer Science symposium at the national American Chemistry Society meeting this year, winning both best oral presentation and best poster. Cal Poly also came out on top at the CoatingsTech Conference in Cleveland.
Read more about the winning students ›
Related Content