Winter 2017 Newsletter
Featured Articles
---
Follow that Fish!
Which parrotfish are the most beneficial to coral? Biology graduate student Madelyn Roycroft has won funding from multiple sources to follow these reef fish around and find out.
From Chalk to Chimes
What do millennials want in a wedding planning service? Liberal studies major Ashley Tovar thinks she has the answer.
An Irresistible Force
Physics students took top honors at the American Physical Society Far West Conference and the International University Physics Competition.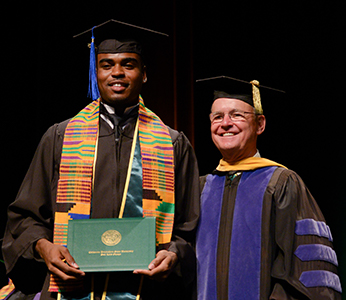 Dean Bailey Receives Diversity Award
Dean Bailey received the INSIGHT Into Diversity Giving Back Award for going above and beyond to contribute to Cal Poly and the local community.
Made in San Luis Obispo
The world's leading particle physicists will soon be using a new particle detector built by Cal Poly physics students on campus. Students will install the detector in 2019.
---
More News
Letter from Dean Bailey
Dean Bailey takes a look at what's on the horizon for student-faculty research. Here's a hint: an important project will take a big step forward in June.
Faculty Notes
College of Science and Mathematics faculty members have covered a wide range of academic ground, from plant phenology to polymers to particle clouds. Emily Taylor, pictured at left, published studies on rattlesnakes and lizards.
Read more about faculty accomplishments ›
Cal Poly Named One of Nation's Best Values
Cal Poly has been named a 2017 best-value college by Kiplinger's Personal Finance, placing 21st in the nation and fourth in the state among public universities and colleges on the magazine's annual ranking.
Read more about Cal Poly's ranking ›
SLO One of Five Most Beautiful College Towns in the Nation

Photo: i madonnari, San Luis Obispo
by Victor Solanoy, CC
Travelers Today names San Luis Obispo one of the five most beautiful college towns in the nation, saying "the amount of activities and excursions in the area are enough to make any student stay after college."
Read the article in Travelers Today ›
Events
Open House: Come Back to Campus April 6-8
Join Dean Bailey as he performs Grand Marshal honors at the Poly Royal Parade, watch the rodeo in its new home in Spanos Stadium, and get reacquainted with San Luis Obispo.
Space Exploration Forum April 12, 7 p.m.
Fran Bagenal, one of the team leaders on NASA's New Horizons mission to Pluto and Juno mission to Jupiter, will unpack what scientists have learned from these missions to the largest and smaller worlds in the solar system.
Related Content