Baker Center Wins Prestigious Building Award
Cal Poly's Warren J. Baker Center for Science and Mathematics received the 2017 Livable Buildings Award from UC Berkeley's Center for the Built Environment (CBE). The only building industry honor that includes feedback from occupants in its selection criteria, the award recognizes buildings that demonstrate exceptional performance in occupant satisfaction, resource efficiency and overall design.
The award jury, which is comprised of professionals in the building industry, noted the high marks that occupants gave the Baker Center on environmental factors such as acoustic quality and thermal comfort. "It's a beautiful building, and people really like being in this space," one juror said.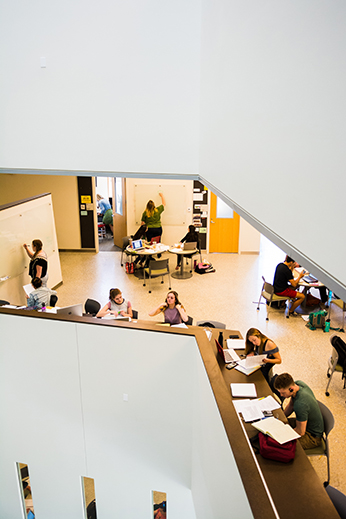 The now iconic structure realized  the vision of Dean Emeritus Phil Bailey to transform science education at Cal Poly and revitalize the campus core. Named after former President Warren J. Baker who was instrumental in securing funding, the 192,000 square-foot building provides innovative instructional spaces and leading-edge research facilities and is a social hub for students across the university.
"Receiving CBE's Livable Building Award is a tremendous honor," said Dean Wendt, Dean of the College of Science and Mathematics. "So many faculty, staff, students and administrators contributed to making the Baker Center a welcoming space for the entire university community, and this award is a wonderful testament to their hard work and dedication."
Cal Poly alumnus Ted Hyman (Architecture, '79) also played a pivotal role as principal architect on the project for the team from ZGF Architects LLP.
"On behalf of ZGF, we are so gratified to see the Baker Center recognized with the prestigious 2017 CBE Livable Buildings Award," said Hyman, a partner at ZGF. "As an architect, there is nothing more rewarding than to learn that those that ultimately inhabit a space after it is built, continue to experience it in as supportive and comfortable an environment as had been envisioned."
Related Content